The Clash Royale team unleashed arguably its biggest sneak peaks since the reveal of tournament mode over this weekend with the introduction of Leagues, new Arenas and new cards!  Let's get right into it with our first look at the 4 cards to be released in the upcoming weeks:
Bandit
Sick of ranged troops harassing you from a distance? Then Bandit is your answer! A 3-cost Legendary melee troop, Bandit is able to "dash" toward any target once within a 4-6 tile range for a big attack.  What's special about Bandit is that she is invincible while dashing, meaning any attack that's targeting her while dashing will not land!  As our favorite Clash Royale YouTuber Orange Juice demonstrates in the animation below, Bandit can absolutely wreck havoc against ranged squishies such as Princess/Archers/Bomber/Spear Goblins/Dart Goblin with ease.
Bandit's hitpoints is slightly more than Electro Wizard and Ice Wizard at comparable levels, so spells are not going to be very effect against it.  To counter Bandit, your best bet is to deploy tanks to absorb that initial Dash damage (ie. Ice Golem, Giant, Golem, etc.), or simply use flyers such as Minions and Mega Minion to take it our quickly.  Bandit has her weaknesses, but it should be a very effective troop at 3-Elixir, and should find her way into many decks once the card is released.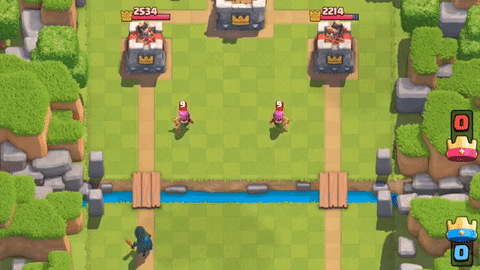 Heal
Finally, a card that allows you to regenerate health! A rare spell, Heal is a 3-cost spell that will add health back to your troops over a 3 second period.  Heal has a slightly smaller radius than Poison (3 vs. 3.5) and heals less than the damage that Poison deals out, but costs less and also acts faster per second than Poison.
We're calling it now: this spell has the potential to completely turn the Clash Royale meta upside down! Need an extra few hits on the Crown Tower with your Hog Rider? Just give it a Heal! Are your Elite Barbarian about to be countered by some measely Skeletons and the Crown Tower? Heal it up so they can keep hacking away! Or caught in the dreaded Tornado/Execution combo?  Heal your troops to keep them all alive!! While Freeze can similarly catch opponents off guard and allow your troops to land extra hits, Heal is much more versatile as you can play it on defense or to counter your opponent's damage spells. I am already dreading seeing Heal played on a stack of Barbarians and a Royal Giant….
Bats
Get your Zaps ready again! Aka Skeletons with Wings, Bats is a 2-cost card that will generate 5 flying melee troops that are just as squishy as Skeletons.
Aside from being a great addition to Zap bait decks (sorry Log, Bats can't get rolled over!), Bats are also a good substitute for Minions/Minion Horde as a combo card with Miner: send the Miner in to eat up the Tower arrows and have your Bats fly in (very fast) to dish up the damage! If Bats become a commonly played card, it may be a good idea to dust off your Baby Dragon and put it back into your deck!
Night Witch
Just as Witch spawns Skeletons, Night Witch spawns Bats.  The new Legendary troop looks like another solid 4-Elixir troop at first, but based on her info and stats it'l hard to tell whether she'll be an effective card like Electro Wizard or a dud like Lumberjack.
The key difference between Night Witch and Witch is their attack: while Witch has a weak area attack that hits both air and ground, Night Witch is a melee attacker that hits ground troops hard – so hard that she has a slightly higher damage as Lumberjack (285 vs. 280)!! But while Lumberjack and other melee troops have a decent amount of hitpoints to absorb some blows while dishing out damage, Night Witch is relatively weak for a 4-cost card.  Her Bats + melee damage would be able to take out tower attackers (ie. Hog Rider/Giant) quite quickly, but ranged troops should be able to deal with the Night Witch and her Bats rather easily.  Still, if you could keep her alive (maybe with a Heal?), she could be a Bat-spawning counter attacking menace.